Media Advisory
February 3, 2012
Contact: Becci Robbins,
South Carolina Progressive Network
,
803-808-3384
,
becci@scpronet.com
Russell Bannan
,
Jobs with Justice
,
864.978.9374
,
rpbannan@gmail.com
Anti-union Bill Threatens Port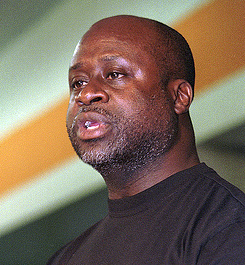 Ken Riley, President, ILA Local 1422
One of South Carolina's largest economic engines, the Port of Charleston, is threatened by an anti-union bill
(H-4652)
making its way thought the state legislature. Sponsored by Rep. Bill Sandifer (R-Oconee), it would require unions to disclose every single financial transaction, publicize membership lists, and raises fines for violations of the state's Right to Work Act from $100 to $10,000.
Sandifer, who chairs the Labor, Commerce and Industry Committee that is hearing his bill, stated at a Feb. 2 subcommittee meeting, "We do have one of the toughest right to work laws in the country; my goal is to have the toughest."
The bill was passed out of subcommittee, and is scheduled to be heard by the full committee in the next two weeks.
Ken Riley, President of the Longshoreman's union that works the Charleston port, questioned why punitive laws were being directed at the 5 percent of the state's workers who belong to unions and make decent wages and benefits. "This unwarranted attack is political grandstanding intended to shift the blame for our economic problems from policy makers to workers," Riley said.
According to the State Ports Authority, trade through South Carolina ports facilitates 280,600 jobs and provides an overall economic impact of $45 billion each year. The per unit cost of containers handled by Charleston Longshoremen is the lowest of all US ports.
"Ninety-five percent of all containers shipped out of East Coast ports are required by contracts to be handled by union labor," Riley said. "If you bust our union, you close the port of Charleston," Riley said.
"It's ironic that the same politicians who decry government intrusion in business affairs want to force more government regulations on productive businesses that use union labor," said SC Progressive Network Director Brett Bursey.
Bursey warned that if the bill becomes law, citizens who believe that workers' rights are equal to those who profit from low wage jobs with no benefits will picket the port of Charleston.
"My guys won't cross a picket line," Riley said.